Administration
Director, Local Government Program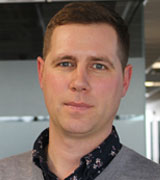 (PhD, Western)
Position: Assistant Professor &
Program Director, Local Government Program
Email: jlyons7@uwo.ca
Telephone: 519-661-2111 x 85168
Office: SSC 7215
Research Interests
Local Government, Multilevel Governance, Special Purpose Bodies
Joe Lyons became Director of the Local Government Program in July 2017.  Having taught in the program since 2013, he has a strong appreciation for its unique and important role in training local government administrators.  Joe is responsible for all academic aspects of the program, including its curriculum and admission and progression requirements.
Joe's teaching and research interests are in the areas of local government institutions and management.  He is especially interested in special-purpose bodies and has published research comparing their performance with general-purpose governments.
---
Program Advisor
Heather Pierce 

519-661-2111 x80501

Position:

Program Advisor, LGP
Email: localgov@uwo.ca

Office: SSC 7306
Heather is responsible for all non-academic aspects of the program including course administration, student support, recruitment activities, alumni relations and support, statistics and tracking, admissions coordination, and, in conjunction with the Director, the general management and administration of the MPA and GDPA programs.
---